About HawthornWe Are Hawthorn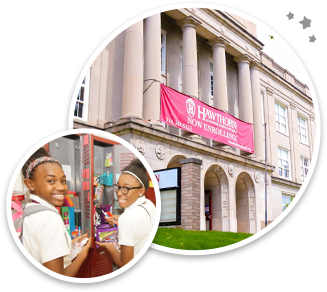 Welcome!
Welcome to Hawthorn Leadership School for Girls, the only public all-girls school in Missouri. We provide middle school girls a high quality college preparatory education with a particular focus on STEM (science, technology, engineering and math). Hawthorn opened in August 2015 with 6th and 7th grades. Now in our third year, our middle school is fully enrolled with 172 students in 6th, 7th and 8th grades. Our high school has started its very first year with 40 freshmen. The school will add a new 6th grade each year until 2020 when we will be fully enrolled with grades 6 through 12.
Hawthorn is a charter public school, open to all girls living in the City of St. Louis. We also enroll students who live in school districts that participate in the VICC transfer program.
Hawthorn' quality academic program incorporates project-based learning ("PBL"), providing our students with hands-on learning that emphasizes problem solving, collaboration and real world application of skills and knowledge learned in the classroom. Our highly qualified teachers bring talent, energy and creativity to our program. Small class sizes mean teachers are able to provide individualized attention and support that enables each student to meet her own academic growth goals.
Leadership opportunities for Hawthorn students abound in the classroom, Morning Meeting, Daily Advisory and co-curricular activities. We recognize that finding one's leadership style is an individual journey and we encourage each student to explore her own leadership opportunities to develop that style.
Hawthorn affiliates with the Young Women's Leadership Network("YWLN") which supports five highly successful all-girls' public schools in New York City and thirteen affiliate schools around the country. The YWLN model includes Daily Advisory in which a small group of girls meets each day with a faculty advisor. YWLN schools incorporate both a leadership and a health and wellness curriculum. A full time, trained college counselor works with the students beginning in 10th grade. Learning does not stop at the end of the regular school day; girls engage in programming after school to strengthen their skills and expand their horizons. Uniforms are required.
The First Public All-Girls Charter School in Missouri