Calendars
Hawthorn's school day goes from 8:00 to 3:33. After school activities are available Monday through Thursday from dismissal to 4:45. Our current school year runs from August 15 to June 2, a total of 181 instructional days. The 2017-18 school year runs from August 16 to May 31, a total of 177 instructional days.
Hawthorn's "Summer Bridge" is an opportunity for incoming students to gather for three days before the beginning of the school year. Summer Bridge is a time to make new friends, meet our teachers, get used to new routines and expectations and have a ton of fun! This year our Summer Bridge was August 8, 9 and 10. Our 2017-18 dates for Summer Bridge are August 7, 8 and 9.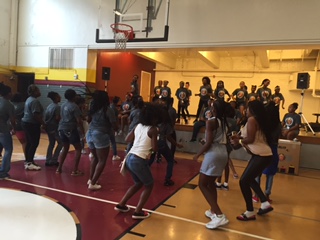 We have 8 early release Fridays throughout the current school year. School is dismissed at 11:47 a.m. to allow time for faculty professional development. Washington University provides enrichment activities through its "InvestiGirls" program for students who wish to stay for the afternoon on early release days. Parents must sign students up using the early release link on our home page or at the front office to attend InvestiGirls.
Click here to download our 2018-2019 calendar in PDF format.