Hawthorn 2020-21 School Plans
Hawthorn's Plans for 2020-21 School Year

August 1, 2020
Dear Hawthorn Parents and Guardians,
I know that we are all anticipating the start of the school with excitement and some worry, so I would like you to be the first to know some important news. Based on COVID - 19 cases increases, feedback from stakeholders, and decisions made by other schools in the area - Hawthorn has decided to start our 2020 - 2021 school year virtually. We will revisit this decision after the first quarter.
Our dedication to student advancement, success, and student/parent/guardian support will not waiver during this time and, if anything, will increase as this unique situation demands. Hawthorn teachers and staff remain committed to ensuring the physical, mental, and emotional health of our entire student body. We understand how the waves of constant change are challenging all of us. We are with you!
If you find that you are experiencing circumstances that will require unique solutions, please reach out to me so we can engage the Hawthorn team and our basket of resources to help. Again, we are here for you! We know that engaging the entire village will help your student have the best outcome despite these uncertain times.
Sincerely,
Middle School Daily Virtual Schedule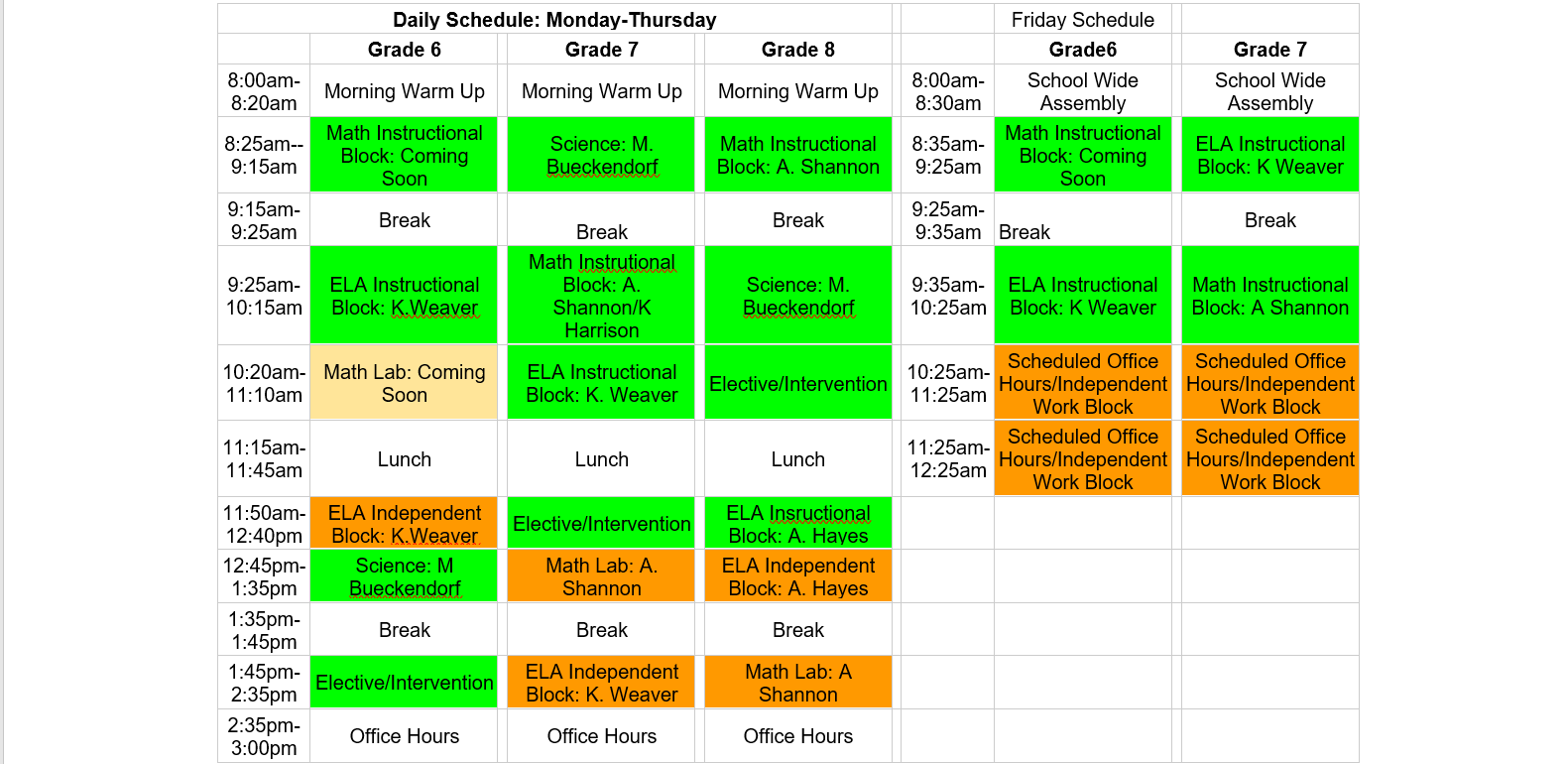 Academic Program
Approach to understand unfinished learning from the prior year
Rigorous high-quality curriculum
High Expectations with support
Ensuring that there is quality instruction regardless of the attendance option chosen
Strong partnership between school and home to optimize student success
Parent training on our learning platforms and educational tools
Next Steps
We will connect with each family before school starts
We will work with you to make sure you have wifi available for your student
Please make sure that you notify us of changes with contact information. Our main office is open and taking calls at 314-361-5323
Parent and student orientations will be scheduled the first two weeks of August
Health and Wellness Considerations
Infectious Disease Plan related to Covid-19 adopted
Covid-19 testing required for all staff prior to student return
Daily health pre-screens for students and staff prior to arrival at school
Training for students on safety procedures (e.g. handwashing, wearing masks etc.)
Face coverings/face masks required for students and staff
Social distancing during the school day
Sanitizing stations throughout the building
Dedicated area for students to remove students who become ill during the school day; immediate pick up of ill students by family member
Compliance with the Missouri statutes and City Health Department guidelines regarding disease reporting, contact tracing and privacy
Our infectious disease procedures have been approved by the City Health Department; click the link to see them