Our Facility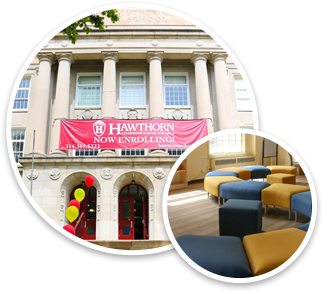 Hawthorn Leadership School for Girls occupies a beautiful and functional space that is a warm and vibrant environment for our students, their families, teachers, and administrators. The location is just right -- on a historic St. Louis boulevard with readily available public transportation. Sherman Park is adjacent to the school, providing our students access to outdoor practice and play areas.
Hawthorn Leadership School Foundation purchased the historic school building at 1901 North Kingshighway Boulevard in late 2014. The building originally housed McBride High School, built in 1924. The original McBride was named in honor of William C. McBride by his wife, Katherine McBride, following her husband's death. Mrs. McBride's gift established the school which provided educational opportunity to boys regardless of their means. For many years it educated Northside boys from modest circumstances, many of them of Irish descent. Nearly 100 years later, this wonderful building has come full circle – educating the young women of St. Louis, regardless of their socio-economic status. A generous gift from one of the McBrides' great grandsons, Tom Schlafly, and his wife Ulrike, allowed us to renovate the school library. As Tom says, "I never met my great grandmother, but am positive she (like me) would be tremendously gratified to know that the building is continuing to fulfill this vital mission."
Many McBride alumni around town have been enthusiastic about the building's new female tenants – a real transformation from its all-boys' origins! We welcomed McBride alumni to reconnect in their old stomping grounds and share so many wonderful memories. After McBride closed in the mid 1970's, the building served as Martin Luther King High School and then Imagine Academy of Careers Middle School. We are very fortunate to find a home with such grand architecture and a storied history in education. The building has a wonderful past and an exciting and groundbreaking future.

Aerial photo of McBride High School from the 1960's.